Feedback requested !
Overview
This module enables you to have an clear overview per language what the menu entries are. In Drupal all of these links are on the same page and thus it is not clear in which language it is and the menus will grow very big in time aswell.
With this module you will be able to select which menus will be editable by this module. (configuration part)
After you have selected which menus you want to be editable, these menus will be visible separated by language.
This will provide a better overview for customers with bigger menus or for a multi lingual approach.
at admin/structure/
for example : admin/structure/main-menu-nl
Features
Select which menu are being used by this module
menus per language
Requirements
Drupal 7
Translated menu's (This is not an module, you must have translated your menu's or selected the option this menu is translatable.)
Keywords:
Menu by language
Menu per language
Menu language
Menu filter
Menu collapse
big menu , large menu
Menu improvement
Links to useful resources
Version 3.x
Contains some nice UI improvements which you can manage at the admin screen
Improvement permissions (like admin menu)
Latest DEV
Integration with "domain" module
Be able to hide "menu vertical tab" on node edit pages
Contains filtering on tables. This way it is very easy to find what you are looking for.
Being able to expand / collapse tables.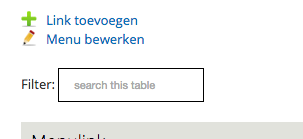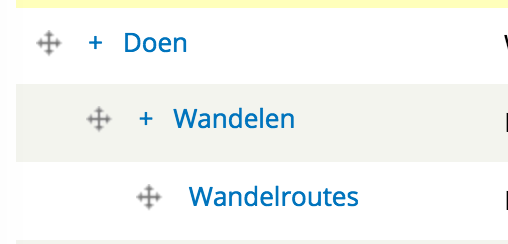 This requires:
For domains : https://www.drupal.org/project/domain_menu_overview
I accept requests !
Project information
Downloads
7.x-3.24
✓ Recommended by the project's maintainer.
Development version: 7.x-3.x-dev updated 2 Oct 2017 at 13:54 UTC
7.x-2.1
Development version: 7.x-2.x-dev updated 4 Aug 2016 at 17:13 UTC