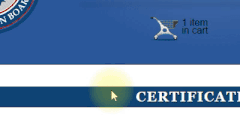 This simple module adds a Drupal Commerce popup cart block. It will display a cart icon with a dynamic number representing the number of items in the cart. When hovered over the cart will popup with its contents listings and action links.
INSTRUCTIONS:
Enable Module
Navigate to your Blocks configuration (admin/structure/block).
Find the block called "Popup Shopping cart" and click its 'configure' link.
Set the region you'd like the popup cart to be displayed in.
Set any visibility settings. For example, you may not want the popup cart to be displayed on cart pages or during checkout.
The module's configuration page is located at admin/commerce/config/popup-cart

Configure the empty cart text.
Enable/disable the option to display the cart icon if the cart is empty.
NOTE: The theme can be easily overridden to display a different cart icon or to position to popup cart icon where you'd like it within its region.
---
This module is created by:
3C Web Services
Follow us on Twitter: @3CWebDev
Project information
Downloads
7.x-1.0
✓ Recommended by the project's maintainer.
Development version: 7.x-1.x-dev updated 17 Apr 2017 at 15:29 UTC