Download

commerce-8.x-2.0-rc1.tar.gz

tar.gz
410.22 KB
MD5:
4deae3c1e3cad1d51091eeaf62d3e3ac
SHA-1:
353a48bba4910a325d11032dcfd2e78446bb95a6
SHA-256:
d6f95c6bd6327829e181a6ba3cb18fc201c712532e46c33a3ee62bf95640aab6
Download

commerce-8.x-2.0-rc1.zip

zip
923.72 KB
MD5:
1d1293d52207ae0d4e469e44660780b4
SHA-1:
e82857cd23c7eebe32a7fa14002d7ab2156dc0a6
SHA-256:
6e69e7bb40e6d7cfb59cb7deb5d5e52373b1bcf007a8f6dacc1542d9707987be
Release info
Created on:
12 Jul 2017 at 22:39 UTC
Last updated:
31 Aug 2017 at 19:34 UTC
Release notes
Important: This release breaks the previous payment gateway API. You won't be able to run update.php until you update your gateways. Consult our list of gateways to see which ones have been fixed already.
We recommend making a full backup of your site, pulling down the latest code with Composer, clearing the cache, then running update.php from the browser.
Major changes
67 commits since beta7, 21 contributors.
We now have a way to install and run Commerce without Composer, via the Ludwig module.
See our previous blog post for more information.
Promotions
- Redesigned conditions API and UI, with conditions for filtering by customer address and role, product, quantity.



- Checkout pane for applying coupons - customizable via Twig, allows 1 or multiple coupons depending on configuration.


- Usage limit settings for coupons
- Fixed amount off offers
- Reworked product-level offers
Payments
- Manual payment gateways are deprecating the commerce_cop D7 contrib, allowing options such as "Cash on delivery", "Cheque", "Bank Transfer" etc.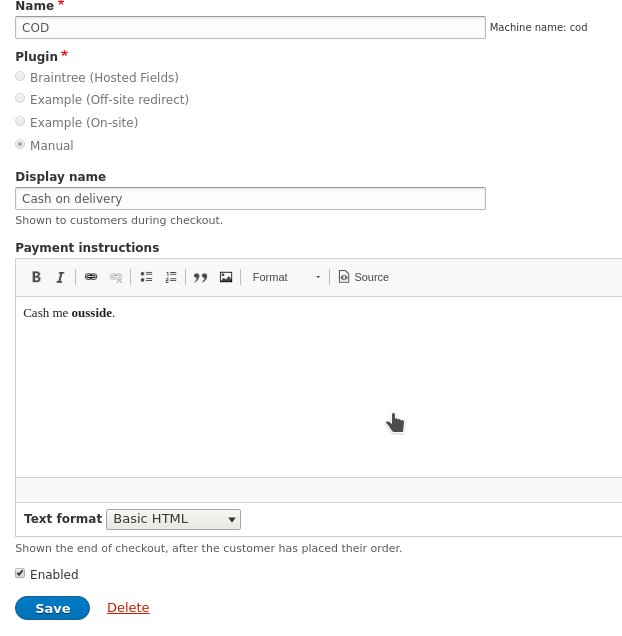 - Payment gateway conditions (same ones we now have on Promotions)
Taxes
- Updated VAT rates for Slovakia and Poland
- Added a plugin for Swiss VAT
- Added a plugin for Canadian sales tax
Changes since 8.x-2.0-beta7:
#2893321 by Neograph734: Entity reference widget not showing for 'limit by product' condition
#2893182 by mglaman, drugan: Multiple add to cart forms with different variation types throws exception (#758)
#2883704: Update the payment data model for RC1
#2886614 by mglaman, bojanz, onedotover, agoradesign: Rework the AddToCartForm form ID handling
#2794909 by drugan, mglaman, Frank HH-germany, agoradesign, iampuma: The quantity "step" must be configurable on the widget level
#2877911 by Thomas Cys, bojanz: Add to cart fails when adding a product without a price
#2891249 by mitrpaka, bojanz: The payment offsite form should show actions only for the POST redirect method
#2860102 by sumanthkumarc: PaymentInformation::getDefaultPaymentMethodOption doesn't check if the selected option is still available
#2878972 by AaronChristian, sorabh.v6: UX (Admin): Currency Symbol Field Size
Remove dead code (Commerce doesn't use core actions or conditions anymore).
Use a 4-space indent for ludwig.json
Process more promotions at once in commerce_promotion_post_update_6().
#2886641: Refactor offers
#2835574 by jespermb, FatherShawn, bojanz: Add Payment Gateway Conditions
#2854193 by Oostie, sumanthkumarc, shabana.navas: Author cannot be empty
#2854313 by manojapare, niko-, zvse, josephdpurcell, mglaman, joshmiller, bojanz: Provide a fixed ammount off offer for orders
#2885575 by bojanz: Switching plugins can crash if both share a configuration element of the same name, but not the same type
#2884870 by bojanz: Plugin configuration is not validated/submitted by the plugin that built the form
Add a temporary workaround for #2884870.
#2884849: UsageLimitWidget should not load usage for unsaved entities
Don't compare years greater than as string
#2792653 by mglaman, niko-, bmcclure, Dom., xSDx, padma28, gauravjeet, chishah92, rajeshwari10, a.dmitriiev, andypost, steveoliver, markoshust, bojanz, LotharDesmet, nikathone: Checkout coupon pane implementation
#2881791 by mglaman, agoradesign: Computed field value for DateTime field causes start time validation error
#2881103: Provide a way to install without Composer
#2880927 by mglaman, drugan, a.dmitriiev, bojanz: Support attribute reference fields created manually
#2828525 followup: Replace payment_information with payment_instructions in the completion message.
Improve promotion sorting when no weight was specified.
Clean up LocalTaxTypeBase::buildRateSummary().
Fix the phpcs fail.
#2879886: Create a StoreCountryResolver that sets the country to the store's billing address
#2879119 by agoradesign: NumberFormatEvent should not inherit from GenericEvent class
#2879054 by sumanthkumarc: Typo in variable name in Country cache context
Update for Address 1.0
Store the cart ID in AddToCartForm::submitForm().
Update for latest Address.
Dependencies
The selected release is the release that will be used for automated testing. Optional projects are only used for testing.
Required
Optional