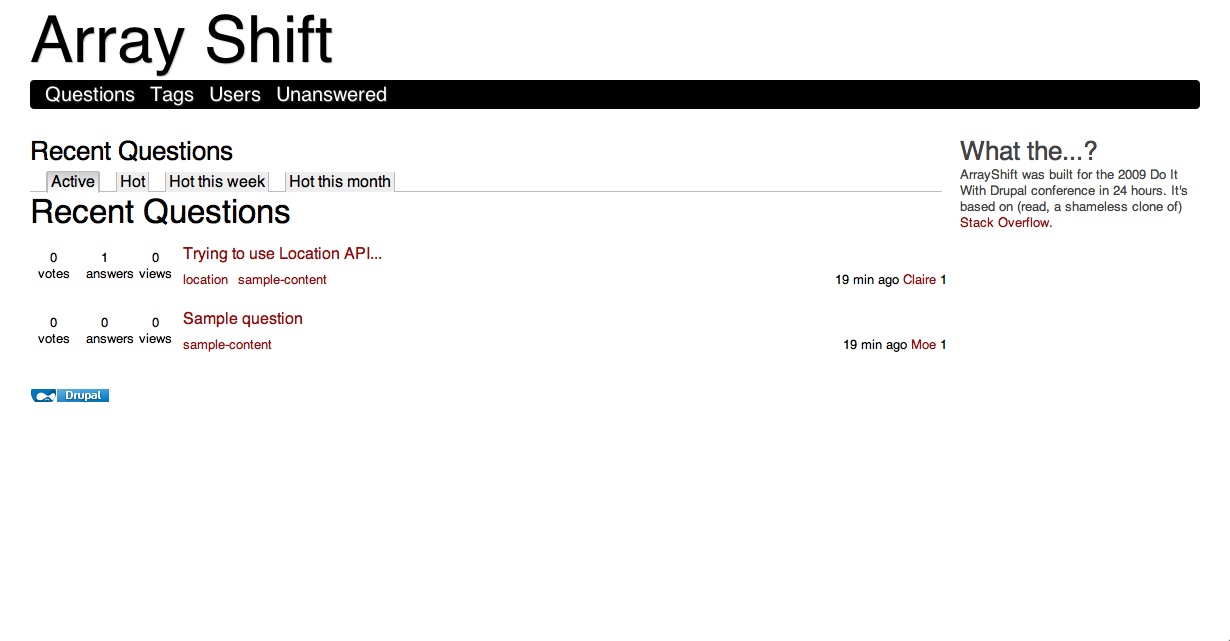 A question/answer site built to emulate the core functionality of sites on the StackExchange platform, such as:
Related modules and themes:
Originally built as a fantasy site for a Do It With Drupal conference, the installation profile is capable of bootstrapping and configuring the initial site.
This is a summary of its current status:
The security messages on the project page need to be resolved.
It currently implements a reasonable subset of the site's functionality, but is incomplete and not bug-free.
It has rough edges that need to be smoothed out and functionality that needs to be finished in other contrib modules before this package could be considered a full feature-clone of Stack Overflow, or before it could be considered ready-for-use by site builders who do not already know Drupal well.
Roadmap
Create a new 6.x-2.x release, to at least address these tasks:

resolve the current security messages on the project page.
Document (probably via community docu to get started) what this distribution is all about. Where appropriate, incorporate links to questions on Drupal Answers that refer to ArrayShift.
Triage of existing issues in the issue queue.

Create a new 7.x-2.x release, to at least address these tasks:

Create a D7 release of ArrayShift, equivalent to the 6.x-2.x release.
Create and evaluate new issues in the issue queue (feature requests, etc), as an inventory to start working on as of a 7.x-3.x. release.

Create a new 8.x-2.x release
Project Information
Downloads