Grow Revenue Faster with Digital Experiences that Convert
Acquia Lift merges content and customer data into one tool, empowering organizations to deliver the most cohesive and personalized experiences across multiple channels and devices. With the ability to target audiences in real-time, marketers are able to scale their web personalization efforts in order to drive conversions and bottom-line results.
This module provides integration with the Acquia Lift Service and an enhanced User Experience for Personalization, Testing and Targeting directly on the front-end of your website.
Features
Drag-and-drop UI for content targeting
Unified customer profile
Merging anonymous and known visitor profiles
Unified content
Content distribution
Real time, adaptive segmentation
Behavioral targeting and A/B testing
Pre-built reports and dashboards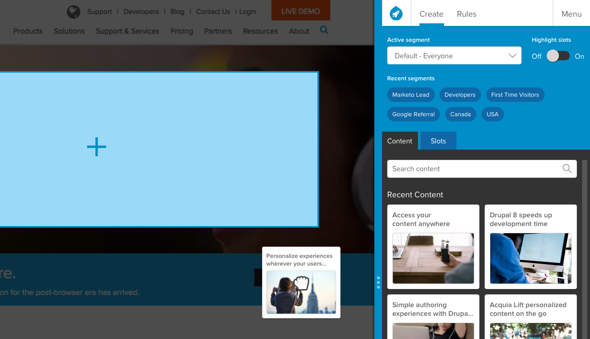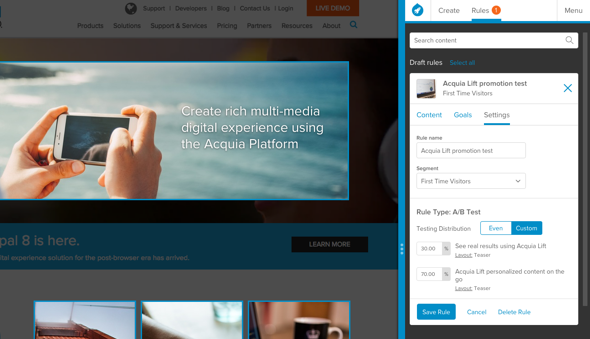 Versions
8.x-3.x - The latest release of Acquia Lift featuring an in-context, drag-and-drop UI.
7.x-2.0-rc3 - The legacy release of Acquia Lift, which is actively maintained but no longer receiving new features.
Dependencies (7.x-2.0-rc3 only)
Installation & Documentation
Please visit the documentation page for installation instructions, configuration and best practices.
Current maintainers
This module was developed by Acquia for Acquia Lift
Project Information
Downloads