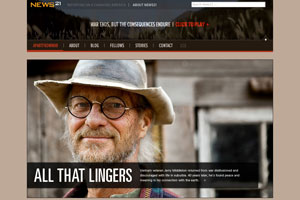 This case study is based on the recently released Syracuse News21 website (apartfromwar.org), a joint venture between the Syracuse University Newhouse School of Public Communications and McCormick & Winter Web Development (.
This website was built as part of the larger national initiative. From http://news21.com/about:
A national initiative led by 12 of America's leading research universities with the support of two major foundations will advance the U.S. news business by helping revitalize schools of journalism.
The universities will take advantage of the riches of their institutions by integrating the schools of journalism more closely with the entire campus in an effort to better teach, challenge and prepare the next generation of news industry leaders for an increasingly complex world. The initiative will experiment with curriculum and hands-on experience with the hope of creating a national conversation with other schools across the country.

The Carnegie-Knight Initiative involves three distinct efforts:

Curriculum Enrichment that will integrate the schools of journalism more deeply into the life of the university.
News21 Incubators: annual national investigative reporting projects overseen by campus professors and distributed nationally through both traditional and innovative media.
The Carnegie-Knight Task Force, focusing on research and creating a platform for educators to speak on policy and journalism education issues.
The apartfromwar.org website launched in the beginning of August, 2010. Powered by Drupal 6, the website was a huge success, gaining national attention and being featured on NPR. The content is nothing less than amazing and the stories are extremely moving.
Website Goals and Challenges
McCormick & Winter was tasked with building a website that served two purposes. The first purpose was to quickly provide a blogging platform for the researches as they developed their stories throughout the summer months. The second purpose was to develop a website that was subtle, clean and user-friendly and that engaged the user without getting in the way of the content. The content was the driving force behind the website and was paramount to everything else. Since several authors often worked on the same piece, all stories needed to have the ability to have multiple author attributions.
Search engine visibility and best practices were also important goals. We abandoned Flash for JQuery in an effort to reach a larger target audience. In all instances where Flash is used for video playback, there is also an alternative HTML 5 version available. Developing a unique, compelling, non-Flash slideshow to feature copious imagery presented interesting challenges. We created a custom Flash video player that supports timeline commenting, the first one ever made, as far as we know.
McCormick & Winter decided to build the site using Drupal 6 because of the wealth of contributed modules. We used Nodewords for Search Engine Optimization and Media Mover to help create an Amazon S3 Content Delivery Network (CDN) that reduces bandwidth costs and speeds delivery of large media files. We also incorporated ShareThis and Twitter modules to integrate social networking. We used Mollom for spam protection and CCK 6.x-3.x-dev for its content multi-group functionality. We used slick modules like Lazy Image Loader along with extensive custom JQuery throughout the site. For the administrative interface we used the Rubik theme along with the Admin 6.x-2.0 module.
Content Types
In an effort to simplify the process of adding content, we created several content types including Slideshow Story, Video Story, and Blog. We decided to forego the Drupal default blog functionality for a custom content type of the same name. We also created a Profile content type for use on the authors' profile pages.
The Slideshow Story content type provides node reference fields for additional authors who receive attribution on the front-end.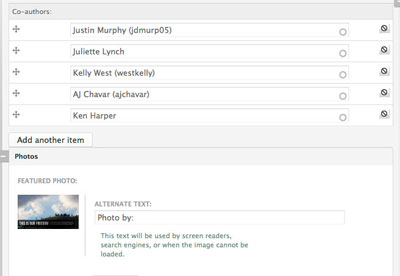 We used CCK ImageFields with multiple selections for the slideshows and Views with custom JQuery for front-end theming. We also used custom JQuery to theme the slideshows on the full node detail page.
The Video Story and Blog content types were structured similarly, only differing by a few fields that were specific to unique requirements of the type of media.
The design and functionality of the Stories page was particularly challenging. Without using Flash, we needed to create a horizontal thumbnail strip navigation to reach specific stories and a list view with unique elements that expand and collapse via drag and drop. The columns headings also needed to sort the list alphabetically when clicked.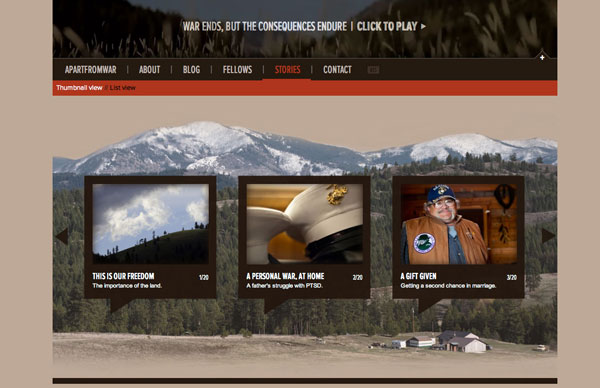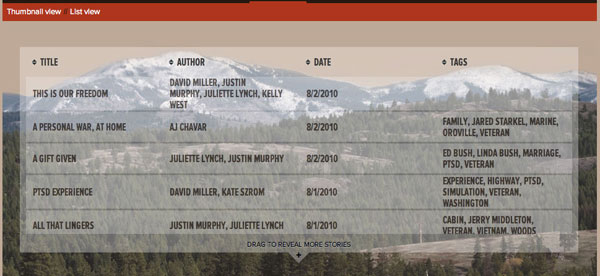 All in all this site was amazing to work on and we are glad to have this in our portfolio.
McCormick & Winter is a web development company located in Truckee, California.
Here is a list of the contributed modules that we used.
Administration
User/Access
Content Profile
Realname
User Terms
CCK
Content Cop
Content Multigroup
Embedded Media Field
Fieldgroup
FileField
ImageField
Node Reference
Option Widgets
User Reference
Media
Image
ImageCache
Lazy Image Loader
JW Player Module
Media Mover (s3 Media Mover Module)
Lightbox2
Theme Related
Utility/SEO
Nodewords
Automatic Nodetitles
Backup and Migrate
Better Formats
Body Wrapper (for theming)
CKEditor
Comment Notify
Global Redirect
Mollom
Path redirect
Pathauto
3rd Party Integration
Flickr
Flickr Block
Gravatar Integration
Twitter
Typekit