Nordisk Film is the oldest continuously active film studio in the world, and one of the top media groups in the Nordics. In addition to developing and producing films and TV series in Denmark, Norway, Sweden, Finland, and Iceland, they provide marketing, production, and post-production services for film producers.
Nordisk Film Group operates the top cinema chain in Denmark and Norway, Nordisk Film Biografer (Nordisk Film Cinemas), which contacted FFW about building a new digital solution for their business.
Why Drupal was chosen:
The Denmark-based Nordisk Film Cinema chain offers a unique value to visitors by equipping all their cinemas with the best and most modern technology. Nordisk Film needed a new digital platform that met the following criteria:
Open source
Regular security updates
Flexibility when adding and managing content
Low cost of maintenance
Ease of integration
Nordisk Film ultimately chose Drupal because of its flexibility and functionality, its ease of integration, its security, and the large community that provides deep developer resources for future support. Drupal's low cost of implementation and ongoing support are added benefits. Drupal was used to build both a responsive site and a mobile app with cutting-edge functionality.
Describe the project (goals, requirements and outcome):
Nordisk Film Cinemas needed a visually appealing platform that would recreate the experience of going to the movies on computer screens and small mobile devices. Nordisk Film Cinemas needed it to be an innovative, cost-effective solution that would meet the following user needs:
Offer user-friendly online ticket reservation and purchasing
Provide information (plot, run-time, cast, etc) about current upcoming movies
Allow users to watch trailers and read movie-related news
Offer contest participation capabilities
Nordisk Film also wanted users to have the ability to create accounts and gain loyalty points for completing different actions. This includes watching movies, writing reviews and more. The points needed to be applied so that users could claim free tickets and other discounts.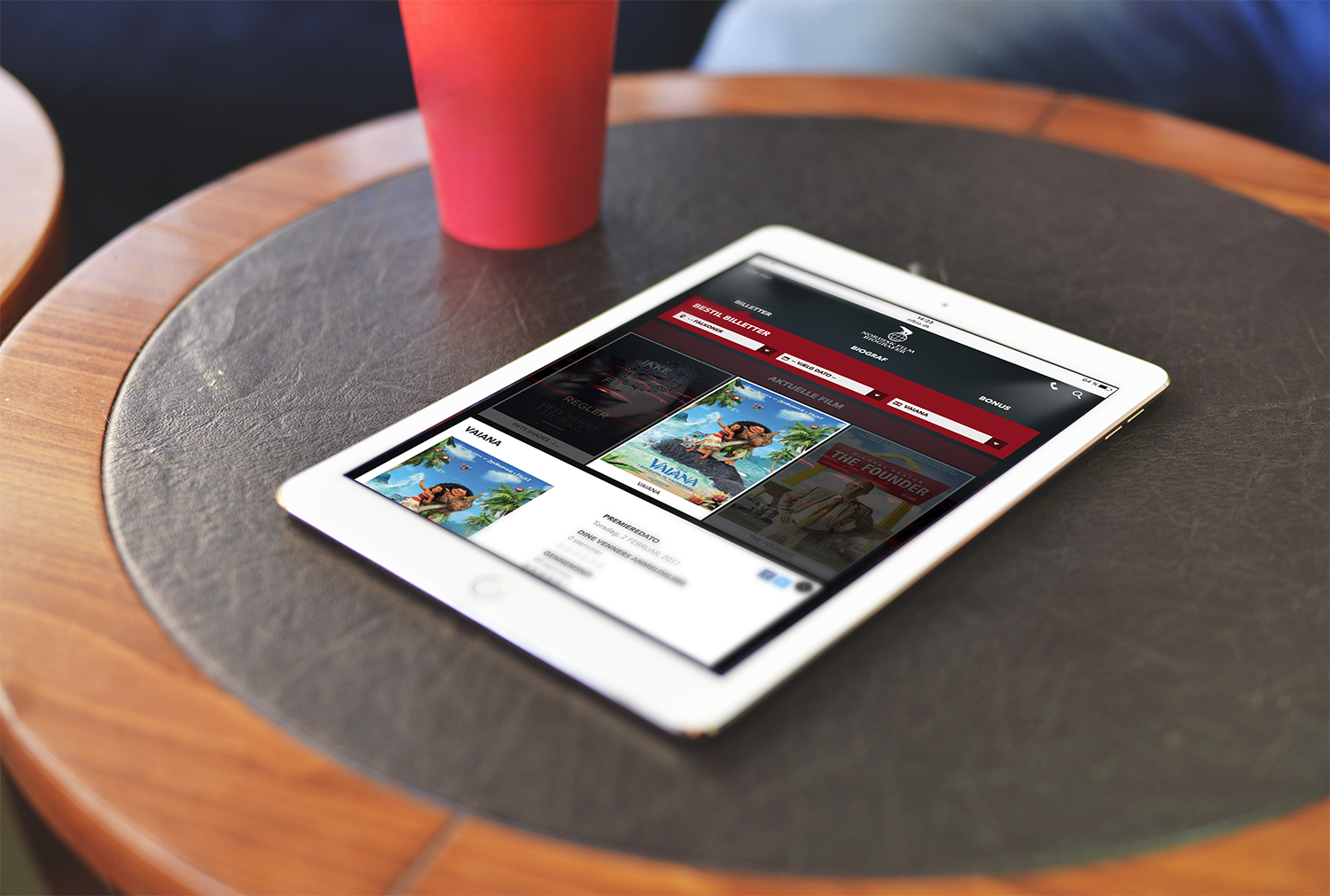 Technical Requirements
From an implementation standpoint, the project had several technical requirements. These were:
Multiple site administration roles
Responsive design
Communication and integration between different systems
Security
Easy maintenance
Site administration
Nordisk Film needed the site to allow support for different site administration roles. These might be content creators, editors, publishers, and so on. Each role needed to have its own rights in order to guarantee smooth content creation and management.
Responsive
The site had to be responsively designed and visually engaging so that current and future website users would be able to easily navigate the site regardless of the device they were using. This requirement was of special importance since many website visitors use their smartphones to buy tickets on the go.
Communication Across Systems
The site had to be able to integrate and share a user's account information and their behavior across different systems. These include a movie showtimes information system, a notification system, payment processors, a QR code reader/generator, and other smaller systems.
Understanding End User Needs and Increasing Engagement
During the research and discovery phase of the project, the team performed user research to understand the numerous potential uses of the site. The team worked together to map out user flows for the many different actions on the site, including reserving tickets, printing tickets, subscribing to news, and more. These flows were used to structure a clear and intuitive user experience that is designed to increase user engagement.
One of the requirements of the project was to offer an expanded user experience that would target new market segments, like users booking company events. The team had to design for multiple different kinds of user interaction with the site, and map out the platform accordingly.
Building Custom Integrations
To meet the project requirements, the team had to integrate the site with numerous external systems to synchronize data. A number of custom modules were built to accomplish the job.
A custom booking module was built to manage ticket reservation and purchasing, and it worked hand-in-hand with a custom payment processor that securely integrated with different external payment systems. From there, a Tickets-to-PDF module that the team created would generate tickets in PDF format so that users could print their tickets and bring them to the theater, or even display them on the screen of their mobile device.
The team also built a module to import movie data from Danish cinema portal www.kino.dk, and synchronizing information about showtimes with a separate ticketing system. Separate modules were built to export all movies and user data to CRM and newsletter provider systems such as Newsletter Responsys and Movio.
Security
Providing secure transactions was one one of the most important components of the site. The site needed to guarantee secure and reliable integration with the payment systems, so the development team designed an appropriate site architecture around protecting user data while still allowing that information to be used to reserve tickets, purchase tickets, cancel reservations, obtain refunds, and more.
Easy Content Management
NFBio.dk is a very dynamic site with lots of information that is updated, removed, or changed every day. It was important that the site make it as easy as possible for different users to make frequent content changes without compromising the site's security. Fortunately, Drupal makes it easy to build out different admin roles with specific permissions. The new site allows content owner to directly change only the content they should be modifying, and workflows ensure editorial integrity.
Going Mobile: Providing an App and Integration
The site also integrates with a custom-built app that uses Drupal to manage the back end. Every action that can be completed on the site is also possible through the app, which also has added, location-specific functionality.
Results
Nordisk Film's new platform has performed admirably. In peak days, as many as 50,000 visitors may visit the site from the web, with another 4,000 daily users on the iOS app.