Open Social is a new Drupal 8 distribution. It's social software for communities and social intranets, similar to the Drupal 7 distribution Commons. Open Social empowers people to effectively collaborate and organize.
Open Social has many features, such as Profiles, Groups, Events, Streams, and Notifications, and is inspired by the Drupal 7-based online community Greenpeace Greenwire, built by GoalGorilla. The Greenwire platform has helped Greenpeace change the face of volunteering and empower thousands of people to become active volunteers and make a difference in the world.
For more information on what Open Social can do, you can read the Youth4Peace case study, a project for the United Nations.
Why Drupal was chosen:
The social media revolution has already changed modern communications, but mainly in our private lives. The decentralized nature of social software is a huge opportunity for organizations to reinvent the way they communicate and collaborate.
However, organizations are presented with a problem: either they can choose existing social networks like Facebook, Google, etc., which operate outside the reach of your organization and may neglect user rights and data ownership. Or, organizations can choose one of a few closed-source alternatives like Jive, Sharepoint, and others. These proprietary products suffer from vendor lock-in and are not flexible to customize to unique organizational needs. In other words, one size must fit all. With Open Social, organizations get back the control over their software and data.
Drupal has always had a strong presence in social projects. Most Drupal developers have worked on one or more projects with user generated content. Drupal started in 2001 with the Dutch word 'Dorp' which means village, a place where people gather. Years later the presence of Drupal in social projects is still large. For example, recently Acquia and Drupal helped save Cisco $400 million (!) USD by moving from Jive to Drupal.
But building good social software is difficult. This is because a social platform exists mainly of user-generated content, and if that user experience isn't right, the platform will not succeed. Social software is also highly interactive and depends a lot on mobile access. And crucial to its success are complex features such as notifications and (aggregated) messaging.
Making great social software takes a lot of time and effort, and isn't something every organization can afford. A Drupal distribution offers the benefit of reusing what has been built before and expanding on that. Open Social provides a basis to build communities, intranets, or social networks without a large investment.
Describe the project (goals, requirements and outcome):
GoalGorilla was interested in investing in developing a Drupal 8 social network distribution because we had build a custom Drupal 7 solution for Greenpeace. And we could see, how generalizing and modernizing to Drupal 8 could benefit many more organizations.
Goals
Open Social empowers people to effectively collaborate and organize. Replacing traditional intranets, it fuels efficiency and creativity. It supports organizations to innovate bottom-up instead of top-down. The Open Social distribution exists to lay a flexible groundwork to meet these goals. In order to do so the Open Social distribution must have:
World-class ease of use (on all devices)
Blazing fast (perceived) speed
Flexible customization and configuration (branding, integrations etc.)
We welcome and invite the (Drupal) open-source community to give feedback on the Open Social Manifesto.
Hours spent
From January to May 2016, GoalGorilla spent about 2,000 back-end development hours, 650 hours of interaction design, 500 hours graphical design, and 600 hours front-end development. We also invested a whole bunch of hours, sweat, and tears in the Scrum Master and Product Owner agile roles. Many people on our team are also working evenings and weekends on the platform.
Team process
We try to stay as agile as possible using the Scrum method. We use an internal Product Owner who acts like the client. Our marketing department acts as the Stakeholder. We have a Scrum Master who makes sure we follow all Scrum principles, meetings are attended, agendas are set, and impediments removed. This does not differ much from our normal client work, except in Open Social we have a bit more space to experiment. For example, we started with the design team (interaction, visual, and front-end) working on stories for the development team. But we noticed input from the back-end developers was important early on when making design decisions. So, in the current Sprints we include both designers and developers writing stories and tasks together.
Approach to the Design
Getting the interface right is a huge challenge. We want to make the distribution look really good out of the box and also have a theme that is customizable to an organization's brand.
Also, to make Open Social's interface intuitively understandable for a wide range of users we use Google's Material Design principles, and as a base theme we use Twitter's Bootstrap. Open Social is built on Drupal 8 too, so we want to stay close to existing Drupal Core and Drupal modules usability patterns. But the users of Open Social are probably used to certain conventions from existing social software they already use. A small example is the Group icon that Google uses for 'Groups', in Facebook this same icon means 'Friends'. So, when testing with real users (which we do each Sprint) the users were confused and we had to redesign a new Group icon.
Tooling
Project Management
Our most important project management tool is Atlassian Jira (with Tempo and X-Ray add-ons). For internal team communication, we use Slack, and Skype for video conferencing. For resource planning, the team uses Timewax. Google Docs is our favorite when it comes to writing down more extensive research.
Design
We use Axure for low fidelity prototyping. For visual designs, we use Illustrator. The front-end is done from a components strategy, which means building a living style guide based on the atomic design principle. We use Gulp for automated front-end development tasks, and Jade for rapid, high fidelity prototyping.
Development
Wow, tools and frameworks are really exploding these days :). Some of our favorites we used for this project are: Docker, Composer, GitHub, Behat, Drush, Drupal Console, PHP Code Sniffer, PhpStorm, and MailCatcher.
Community contributions:
We agree with Dries when he says that without Drupal distributions, Drupal won't be able to successfully compete with commercial (product) vendors. Drupal distributions have great potential, but they have to be done right and be sustainable.
GoalGorilla doesn't just want to provide the community with a base platform for their social projects. We hope the community will get involved, to expand the diversity of perspectives that will make decisions about the distribution, contributions to translations, and so the distribution will not solely depend on our efforts in the future. To do so we try to be as transparent and welcoming as possible. All development is done out in the open at:
We use a Docker Image, so contributors from the community are up and contributing in no-time.
Project team:
Taco Potze - Product Owner
Evelien Schut - Scrum Master
Mieszko Czyzyk - Marketing
Xinyu Ma - Interaction Designer
Frank te Riet - Visual Designer
Bas van Os - Visual Designer
Moritz Arendt - User Testing
Our multidisciplinary team is obsessed over user-centered design. That means passionate discussions over the smallest things. This takes time, but we believe this investment is crucial to make great easy-to-use software.
But, we need your help making the platform even better! Please check out what you can do at: https://www.drupal.org/project/issues/social - or drop us an email at info@getopensocial.com to get involved or stay tuned through @OpenSocialHQ.
The Stream or Timeline function of Open Social:
The Notification feature of Open Social: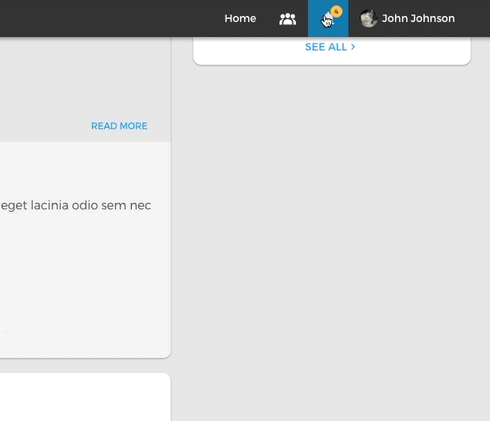 We hope you like our design choices!