Last updated 11 March 2016. Created on 10 March 2016.
Edited by Pierre.Vriens. Log in to edit this page.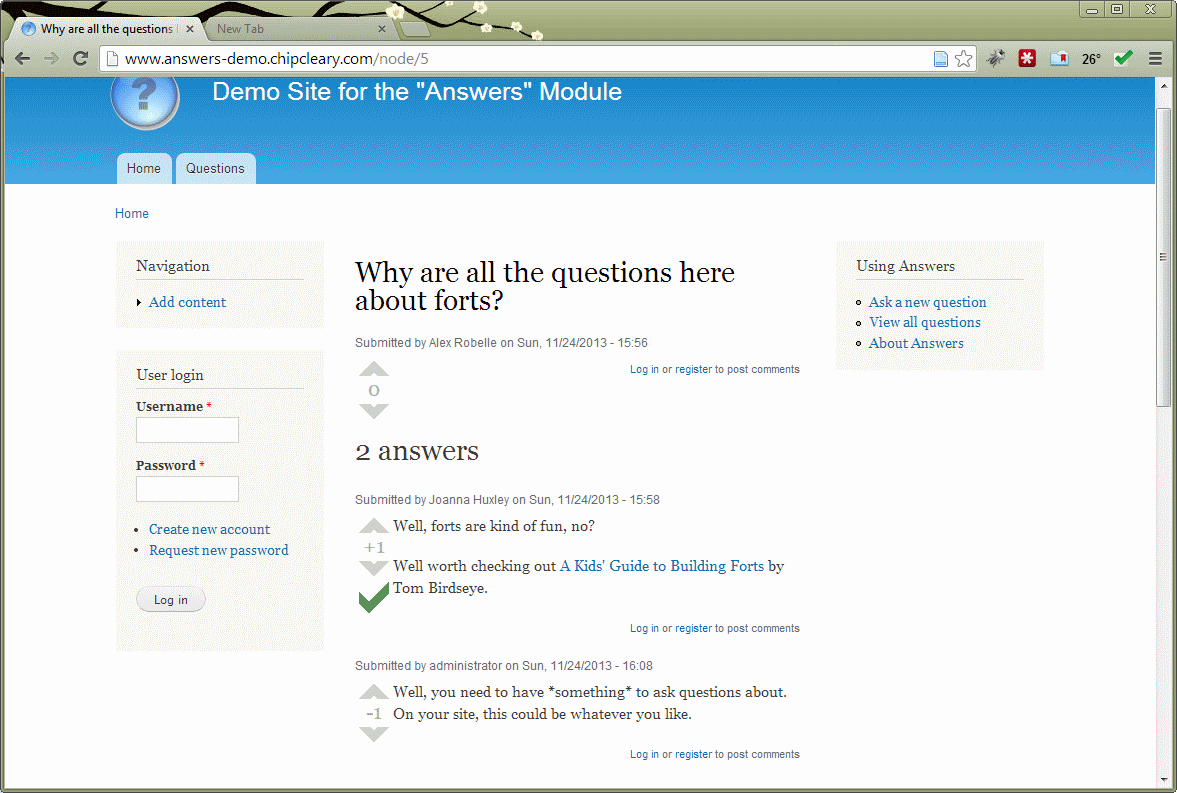 The Answers module can be used to implement a question & answer (Q&A) system where users can post questions and other users can answer them.
It is designed to provide a Drupal based alternative to StackExchange.com sites, such as the Drupal Answers site.
Module features
The Answers module comes with the features detailed below
Ask a new question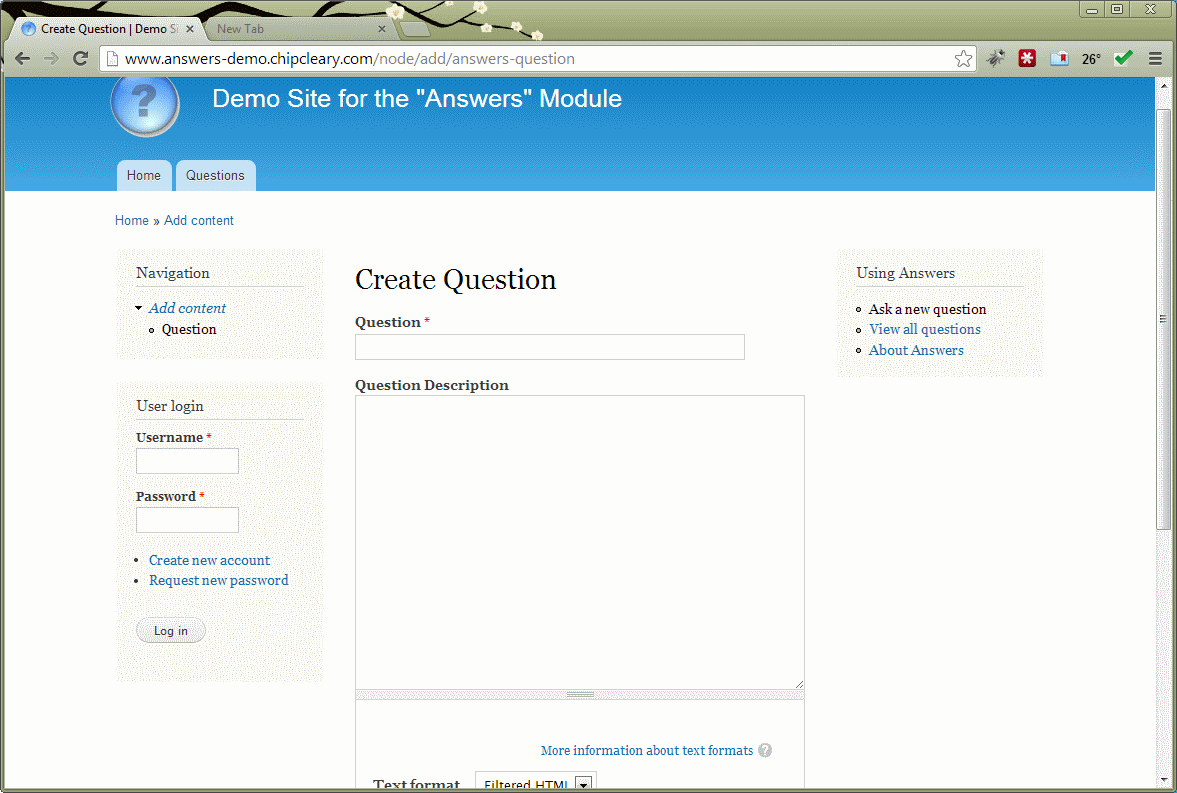 Available options to ask a new question:
Directly, via 'node/add/question'.
After searching for similar questions, via 'questions/start_ask'.
Answering questions
Users can post answers to existing questions.
Selecting existing questions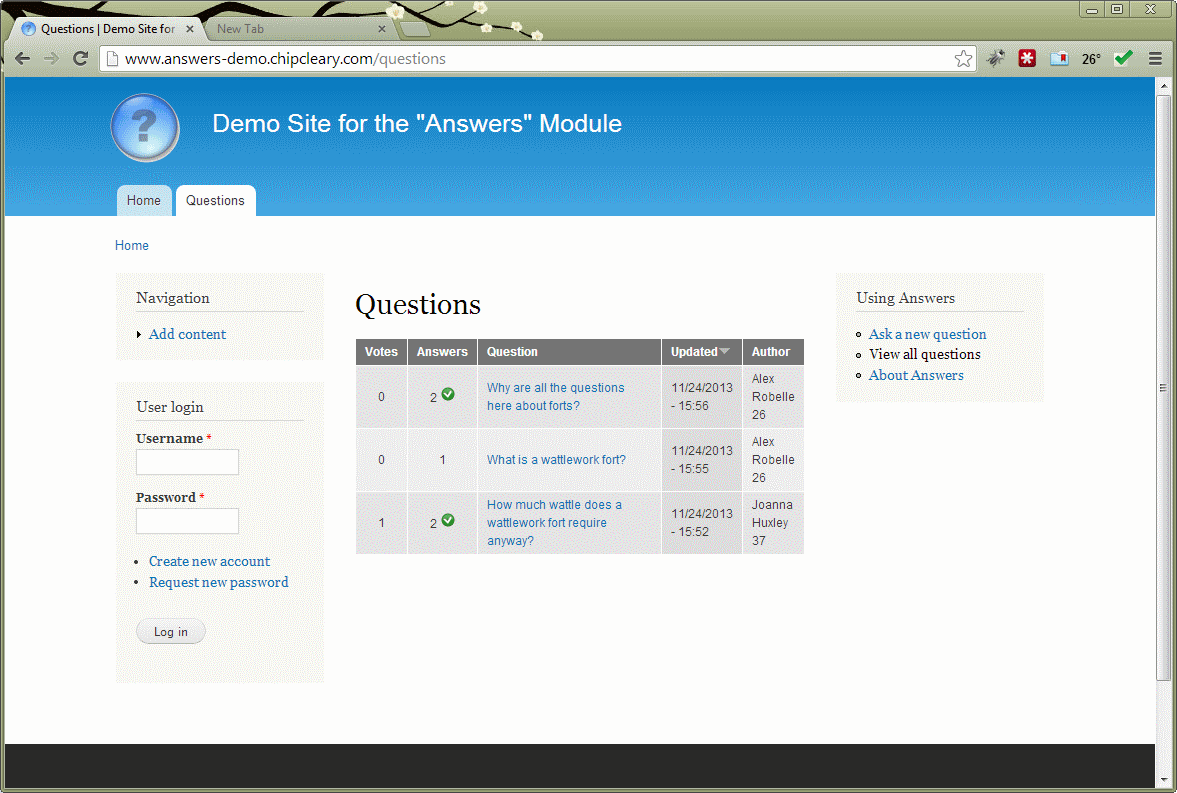 Creating a list of existing questions can be done in various ways:
All questions, via 'questions/all'.
Unanswered questions, via 'questions/unanswered'.
Search for questions, via 'questions/search'.
Lists of existing questions can be sorted by title, post date, and number of answers.
Viewing existing questions
When displaying a question, the system shows the answers to that question.
The displays are based on standard CCK node displays and Views, so they can be themed in the typical ways.
Optional features
Extra features can be enabled via supporting modules.
Documentation and support
For documentation and/or support related requests, please create a new issue in the Answers issue queue. Do not add them here by adding a comment to these pages please, compliant to community documentation guidelines. Ignoring this request will cause them to be flagged for moderation (ie: to get them deleted).
Notes:
Please be aware that these community documentation pages still need quite some work to get completed. Refer to #2685535: Create Answers module documentation, and its child issues for various topics that still need to be included somehow.
If you want to contribute to these pages yourself, please ... do so now
Looking for support? Visit the Drupal.org forums, or join #drupal-support in IRC.