Latest Updates:
Can everyone please try to reproduce this issue on 7.x-2.0-beta7, it was introduced by feature enhancements that were committed but not properly tested. The 2 issues for those are:
#1516758: 2.X: Zoom to cluster: 2.X: Zoom to cluster (Patch - https://www.drupal.org/files/1516758-zoomtofeature-26.patch)
#2038463: Automatically zoom into cluster when layer only has 1 feature which is a cluster: Automatically zoom into cluster when layer only has 1 feature which is a cluster (Patch - https://www.drupal.org/files/openlayers-zoom-to-layer-cluster-zoom-3.patch)
The patch in #8 reverted the feature's properly when the dev release was at that state but may be broken now, I need to reroll the patch but haven't had time to get to this yet. You could quite easily revert the patches linked above (these were what were committed).
I also remember from experience sometimes I was getting false positives, as in, I'd turn off the features and the bug still persisted but it wasn't until I nuked every cache in existence before each page load that I was able to nail down the root of the problem. Apologies for not being able to reroll the patch just yet.
Original Post:
This is a really strange bug and it took me a long time to figure out what was actually going wrong, I'll try to explain as best I can:
I have a large dataset of points over New Zealand with clusters enabled. What is happening is when ANY interaction other than simple zooming occurs, the Openlayers feature which appears first in the cluster (i.e if you were to use popups it would appear at the top of the list, which seems to be alphabetic) seems to remember the location of the cluster and either a) the point shows at that location rather than the real location, or b) the popup for that point will appear at that location. I can replicate this on my map in a number of ways:
1) Firstly, if there's a large cluster that then gets split into smaller clusters when zooming in, the point which was the first feature in the original cluster will either appear in the location of the original cluster OR the popup will appear in that location: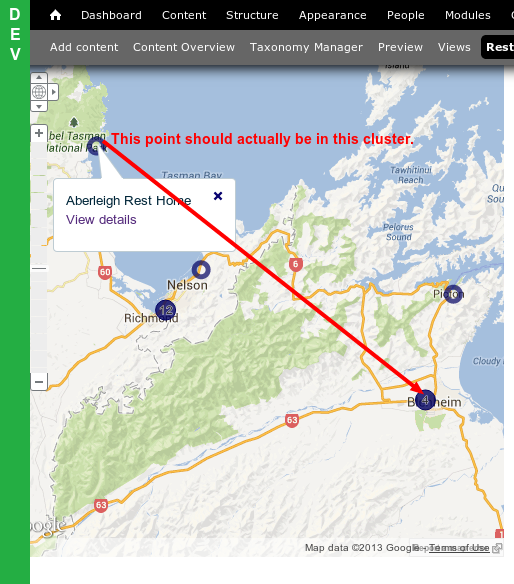 2) Secondly, using the Zoom to cluster functionality on a small cluster will make the first feature of the cluster appear at the cluster's location rather than it's actual location: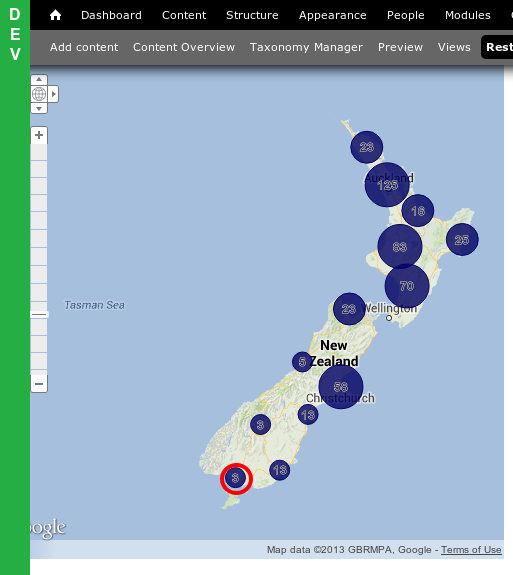 After clicking to zoom: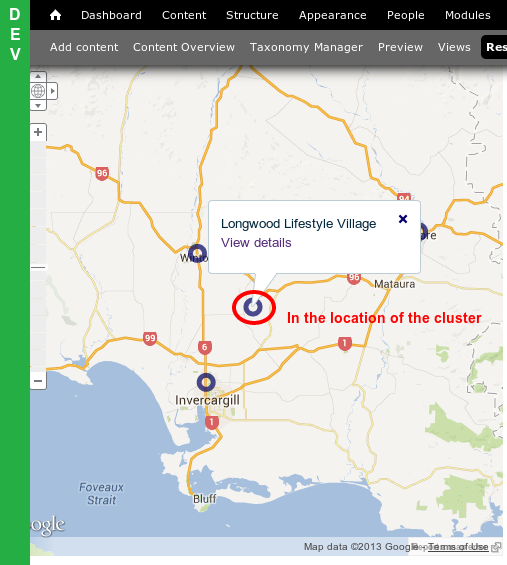 After zooming with mouse scroll.
These are just 2 examples of ways to trigger this strange behaviour but it's currently a massive issue since any "special" type of interaction with clusters causes data integrity to be lost.
If someone starts helping me on this I am happy to provide database exports etc as I imagine this will be extremely hard to reproduce.
I found this originally on beta7, moving to --dev did not fix it, neither did upgrading the openlayers library to 2.13.