Adding translation to a content after a fresh install throws an error.
Here's the steps to reproduce:
1. install standard profile.
2. install "Content Translation" module.
3. go to admin/config/regional/language/add. add a new language (e.g. Persian)
4. go to admin/config/regional/content-language.
5. mark these checkboxes: "Content" -> "article". then, save.
6. go to node/add/article. add article (i filled the title, and body fields)
7. click the translate tab in the article page.
8. click "Add" for the "Not translated" language.
(example url: fa/node/1/translations/add/en/fa)
9. click save.
10. error page is displayed like this:
[info] Article test page - en has been updated.
[error] InvalidArgumentException: Invalid translation language (fa) specified. in Drupal\Core\Entity\ContentEntityBase->addTranslation() (line 674 of /var/www/menu-links/core/lib/Drupal/Core/Entity/ContentEntityBase.php).
The website has encountered an error. Please try again later.

The bug has a lot of other symptoms. here's an image from the front page:
(the content is shown duplicated. clicking the pencil for each of them, opens the dropdowns for both)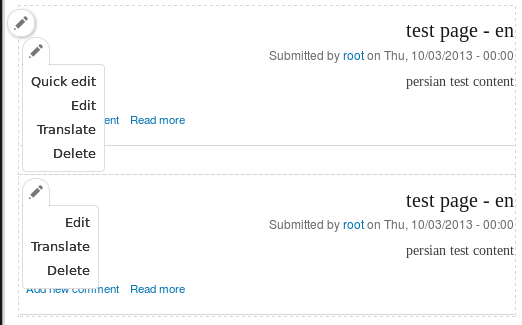 and modifying the title in the translated content doesn't seem to work. it always reverts back to the english title.