Updated: Comment #9
Problem/Motivation
When viewing the test listing page (admin/config/development/testing) within the overlay, the test group for overlay module doesn't appear correctly.
Proposed resolution
Adjust the ID in the simpletest module by prefixing "module-".
Before: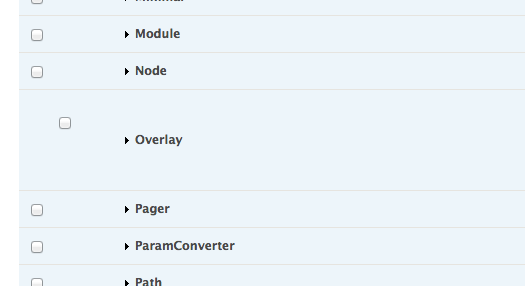 After:

Remaining tasks
None
User interface changes
Overlay module on admin/config/development/testing will appear correctly in overlay.
API changes
n/a
Related Issues
None yet.
Original report by @sayela
There is an ID (overlay) in the overlay.tpl template of the core overlay module that serves as a wrapper for the contents. This is however conflicting with another ID (overlay) that identifies the overlay module in the module listings. This results in the latter inheriting the CSS properties of the former thereby causing undesirable results.
Proposed Solution:
Change the ID wrapping the overlay (line 25 of overlay.tpl) from "overlay" to "overlay-wrapper" and then edit the overlay-child.css (line 17) accordingly.
Thank you.