The links in "Operations" column are jammed together, making it very hard to see where one link ends and where the other one starts.
An example of this issue is on content types page. The links are displayed as "edit manage fields manage display delete" which is very confusing, especially for the clients.
Solution: space them out and add a border between. This will separate visually the links.
Before: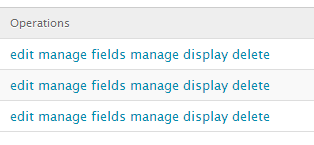 After: