Problem/Motivation
Drupal 8 wants to provide a much improved workflow for content creators. One of the most critical screens in this is the content creation page. This issue outlines a plan for implementing a new design for this page.
Latest breakdown of sub-issues for this
Per comment #292, revised per #319. Please work on feature issues first. These are all unblocked now, though 3 and 4 are tied together.
The main issues that this design wants to solve are:
Make the publishing status of the content item much more obvious: Move the publishing state selection out of vertical tabs and position it closer to the Publish/Save actions. Provide a clear status label in the sidebar.
Provide clearer seperation between content and settings: Make the vertical tabs less screen-space consuming by moving them into a sidebar as an accordion.
Update and expand the visual language of the Seven admin theme to express all of the above in a clear and elegant form.
There's quite some background to this. We have documented our research and iterated on the design proposal.
What we'd like to build is this: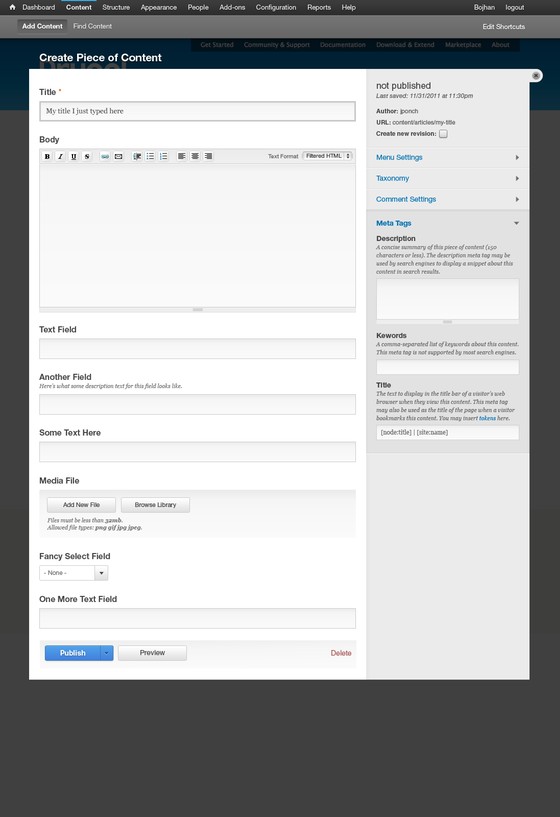 From our analysis of the feedback on the research and design proposal, we made a few adjustments to our original proposal. See the discussion points below for the parts that need more detailed design work still.
Remaining tasks *Please see implementation plan below for critical work*
See comment #147 for the results of usability testing, this resulted in the following issues to be fixed:
Publish state selection near save
Visual separation between accordions was occasionally hard
Error messages are often hidden from view (bug)
Text format has too much visual prominence
Design how to handle tabs and secondary tabs in #763720: Visiblity of primary & secondary navigation
Further discussion
---
Implementation plan *updated*
We need help in refactoring this from a prototype patch to a full fledged core patch. We have a first implementation a single core patch, but it needed to be split up into sub-issues in order to review, refactor and commit in more sensible steps. This is what still needs to be done before feature freeze:
#1238484: [docs update] Ability to mark the form buttons to be of a specific type (so that they can be styled differently)
Move the node form's vertical tabs to collapsible fieldsets.
Implement 2 column layout for node forms using either new Blocks & Layouts system or not, depending on time constraints. A mobile layout was never explicitly designed, but the original core patch implemented a responsive layout. Make sure this works well on small screens as we refactor!
Unfortunately these patches are interdependent – no way around that.
Go!