Last updated 7 September 2012. Created on 28 February 2012.
Edited by augustus.kling, friedjoff, ulim. Log in to edit this page.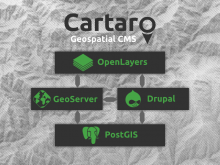 Cartaro is a Drupal distribution that provides support for spatial data. It seamlessly combines:
By using true geometry data types as Drupal content types Cartaro extends the potential of spatial data in Drupal. It not only allows to display data on a map but also to run complex queries and spatial analyses on the data or to publish data as standardized web services. The graphical user interface makes spatial data editing an ease for all kind of users.
Cartaro provides the ability to define custom content types that include spatial data fields in addition to other fields. It is able to use the permissions set in Drupal when hosting OGC compliant services such as WMS (includes custom styling with SLD) or WFS (includes write support with transactions).
Looking for support? Visit the Drupal.org forums, or join #drupal-support in IRC.