Problem/Motivation
There is an UX problem with the current design of the address book page (user/%/addresses). Currently, default addresses are displayed on the left side, other addresses on the right side. The default billing address and default shipping addresses are always shown seperately, even if they are the same.
Now, this the real problem: if they are the same, then if someone intends to edit his/her default billing address, he/she also edits his/her default shipping address as it points to the same address record.
See this image: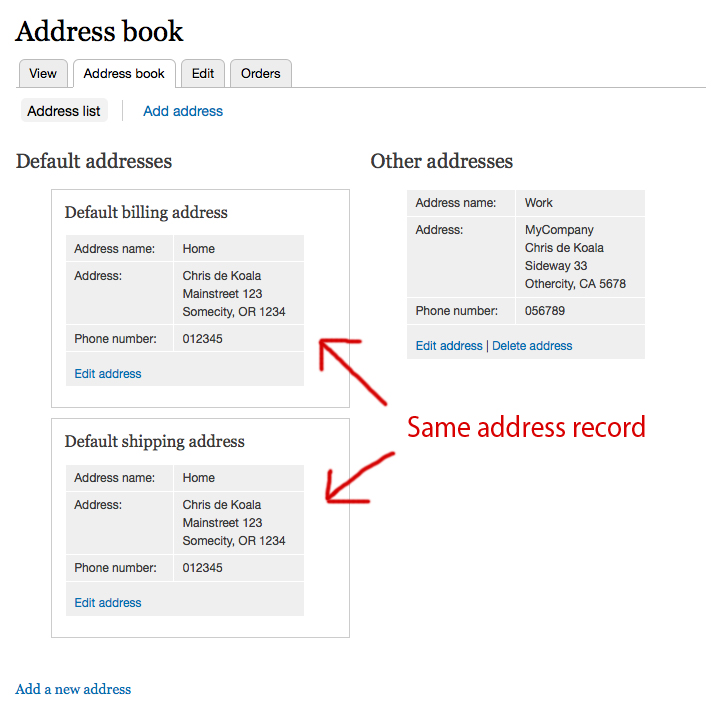 Proposed resolution
When the default billing address is equal to the default shipping address it should only be shown once on the address book page.
The address book page should be redesigned with Views. As a plus, web admins have the ability to easily alter the address book page to their own needs.
Remaining tasks
Implement full Views integration: #1391216: Views integration for the 6.x-2.x and 7.x-1.x version
Views integration has been completed enough to continue with this issue.
Implement a default View for the address book.
A proposal is posted in #26.
Adjust the Ubercart Addresses templates, remove the address book template.
Adjust uc_addresses_theme(), remove link to address book template.
User interface changes
The address book page will get a complete new design. See #14 for a proposal of the graphical design and #26 for the current result.
API changes
None
Related Issues
Original report by Sam-Inet
steps to recreate:
- add a first address (forced to be default for both shipping and billing)
- on /user/2/addresses, click "Edit address" in "Default shipping address"
- - make changes, but you can't deselect the "Use as my default shipping address " checkbox
- - save, changes are updated to default shipping
Expected behavior:
- add a first address
- - forcing to be both defaults is okay, but
- - better to have one form with a "My billing information is the same as my delivery information" type checkbox, that if unchecked makes a second form for default shipping appear.
- during save it should create two records, one for each default.
- upon editing either default, only it is updated.