Last updated 23 November 2009. Created on 19 February 2007.
Edited by dman, dgorton, MGParisi, ultimateboy. Log in to edit this page.
This cookbook assumes you have successfully installed Drupal and are looking at a "Welcome to Drupal" screen. If you're not already to that point, the Installation Guide is for you!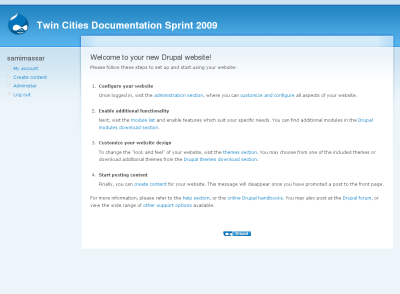 Drupal's Welcome Screen (Drupal 6)
This guide will talk you through adding content to your site, setting up your homepage, working with menus, extending your site with common modules, configuring permissions, setting up blocks and making your site look different via themes.
Looking for support? Visit the Drupal.org forums, or join #drupal-support in IRC.