Last updated December 13, 2014. Created on December 10, 2009.
Edited by brahmjeet789, authentictech, zzolo, arianek. Log in to edit this page.
The administrative overlay makes it easier to administer a Drupal site by displaying administrative pages as a layer over the current page (using JavaScript), rather than replacing the page in your browser window. Once an overlay is active, you can use the close link on the overlay to return to the page you were viewing before you clicked the link. In a "Standard" install, the Overlay module is enabled by default.
Uses
Example
Administrative interface without the overlay: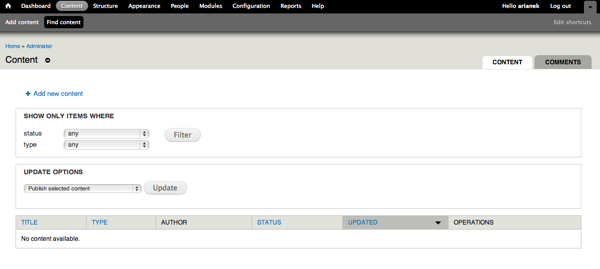 Administrative interface with the overlay: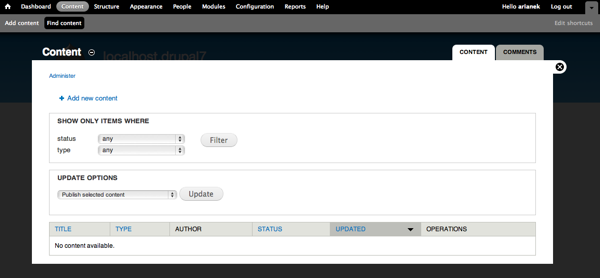 Accessing the overlay
When enabled, the overlay will appear when you click on administrative links. If you manually enter a URL in your browser, overlay will not be used. To reset so that overlay is used again, leave the admin section of your site, then return to the page on which you want to use overlay.
Roles and permissions
Users must have "access overlay" permission in order to see administrative pages in the overlay.
Disabling
On the admin toolbar, click Modules.
In the Core section, disable the Overlay module.
Click Save Configuration.
Altering the appearance of the overlay
The page https://drupal.org/node/1087026 describes one way that the appearance of the overlay can be modified using code.
Looking for support? Visit the Drupal.org forums, or join #drupal-support in IRC.