Last updated October 8, 2014. Created on September 17, 2009.
Edited by samwilson, cothrun, lolandese, AjitS. Log in to edit this page.
In Drupal 7, site settings and configuration are made exportable using the CTOOLS contrib module. Features module offers a well-known method of bundling these exportables in a new downloadable feature module. Drush Ctools Export Bonus offers a more light-weight approach to exporting site configuration.
So, here's the thing: If someone asks you how to make a blog on a Drupal site, you don't tell them to activate the Blog module (which is ready for retirement). You tell them that a blog is easily made with CCK and Views – and some settings that would cover 2–3 pages of fine print.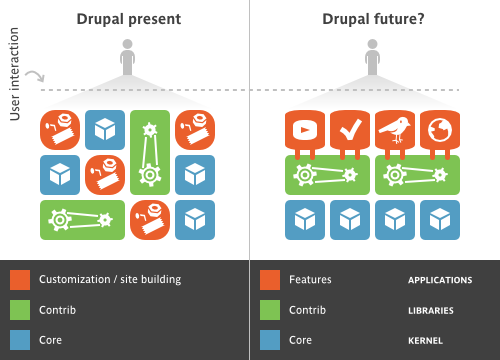 Features module shortcuts the work with configuring settings by providing comfortable means for bundling, exporting and importing settings for many of the most used Drupal modules. Features shifts the site development paradigm from tweak here and there into enabling features.
Drush CTools Bonus Export allows you to export well over a dozen types of Drupal settings to their own include file. For example exporting menus to modulename.ctex_bonus.menus.inc.
The main advantages
Newcomers to Drupal can quickly deploy a blog, an image gallery and a bunch of other features, while still being able to peek into the fine-print settings.
Developers can easily reuse settings in some of the most used modules, including CCK (and ImageCache), Views, Panels, Context, and more.
Developers can easily distribute their configurations to customers and developing sites – and update existing ones. There are interesting discussions on distributed features servers.
For those of you using Drush: There are some useful Drush commands for managing Features. (Documentation section yet to be written — see project page for brief documentation.) For those of you not using Drush: Check it out!
Looking for support? Visit the Drupal.org forums, or join #drupal-support in IRC.