Creating and Managing Sessions
In order to create a session navigate to [Content] > [Add Content] > Session and fill out all required fields. 
Adding Session Tracks
Update the session Track field allowed values in the Session content type (admin/content/node-type/session/fields/field_track).
Adding a Speaker
In order to add a speaker, you must first add a user to the Drupal instance.
When creating a new session, the Speaker(s) field is now an autocomplete field populated with users accounts of your Drupal instance.
Adding a speaker to a new session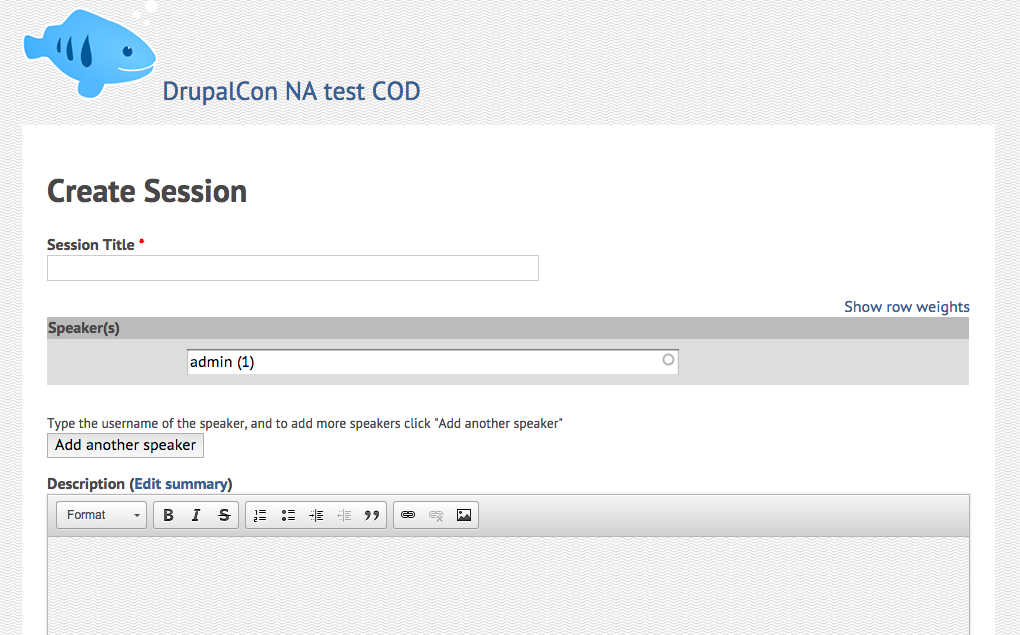 (Click on image to enlarge)
Managing Sessions
As sessions are created, visit the Session administration (conference-admin/sessions) to manage sessions; review and publish submitted sessions so they are visible to the public.
Voting on Sessions
Voting usually begins once you've finished accepting new sessions, so votes are applied fairly.
Adjust flag access on the Session vote flag (admin/structure/flags/manage/session_vote) to allow other roles to vote on sessions. Additionally, you'll need to check off which display options apply best to your site.
You will probably want to do some additional theming to ensure the "Vote for this session" links are more prominent on session nodes, or build a view that shows all nodes that haven't been voted on by the current user, filterable by track/experience level.
Remove the flag access by role (flags/manage/session_vote) when you want to stop allowing people to vote.
Confirm Session
After session creation by users and after vote and approved session, you need to ask every user assigned to a session to confirm his session.
Steps:
Go to [Conference]. Find the conference you'd like to manage on the Conference List, click on [Manage Conference]
Go to the [Speakers] tab and click on [Unconfimed]
Write message to unconfirmed speakers on how to confirm their session
Check all of the sessions you wish to notify (all this page, all, all pages) and click on [Send email]
Each user will need to go to his session and check in the link text below:

Confirm that I can present this sesssion at the listed date and time.