Working with the dashboard
The dashboard gives administrators a customizable overview of important site information. You can add and remove items from the dashboard, or you can disable the dashboard completely.
Displaying the dashboard
On the admin toolbar click Dashboard or navigate to http://www.example.com/admin/dashboard and you will see:

Adding, removing, or rearranging items in the dashboard
Click Customize Dashboard, and you will see a set of dashboard blocks that you can drag and drop into and out of your personalized dashboard. Once dragged into the dashboard, you can also rearrange each block into the desired position in the page. (The settings are saved automatically.)
The finished dashboard blocks will fill with information as the site is populated with content and users.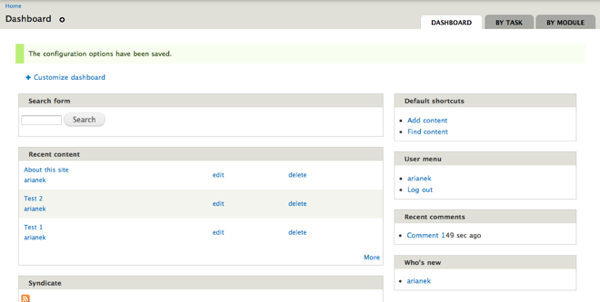 Disabling the dashboard
On the admin toolbar, navigate to the Modules administration page (Administer > Modules or http://example.com/admin/modules).
In the Core section, disable the Dashboard module.
Click "Save Configuration".