Lingotek - Inside Drupal 7 Module Case Study
Client Goals
Varian Medical Systems (Varian), a medical device company that makes products for treating cancer and other medical conditions, was establishing a new globalization infrastructure and was looking for ways to improve the speed and delivery of localized web content.
Why Drupal was chosen:
The company's website is built on the Drupal 7 platform, so Varian was looking for a Drupal module that was capable of quickly translating web content into multiple languages. Varian's prior localization efforts required labor-intensive manual processes. In addition, their previous platform offered a poor user interface (UI). They were experiencing many code errors between the translation management system (TMS) and the website. After a year of struggling to integrate the vendor TMS with Drupal, Varian decided to find a vendor that offered better Drupal integration.
Describe the project (goals, requirements and outcome):
Technical Requirements
The company also needed a TMS that could effectively manage translation memory (TM), integrate well with existing company systems, and that had a simple UI. Varian is using Acquia's cloud platform for the company's Drupal-based websites. Acquia is familiar with Lingotek's translation technology and uses it to localize their digital experience platforms for global markets.
After considering multiple vendors, Varian chose Lingotek for its clean, easy-to-use TMS UI and the Lingotek - Inside Drupal 7 Module. The Lingotek Translation Network is able to give Varian a cloud-based solution that can store, track, and manage multilingual content, and that integrates with a TMS, without ever leaving the Drupal environment.
Lingotek - Inside Drupal Module
The Lingotek - Inside Drupal Module is a community-maintained module that is primarily sponsored by Lingotek and built on Drupal's standard multilingual modules (locale, content translation, entity translation, internationalization, etc). Lingotek offers modules for both Drupal 7 and Drupal 8. The modules help Drupal administrators, agencies, and web marketers build a consistent, up-to-date, multilingual website.
The Lingotek module is unique because it can translate every element on every page. This includes:
Entities - Nodes, comments, messages, fieldable panels panes, taxonomy terms with custom fields, and even field collections (including nested ones).
Taxonomy terms - Choice of an Entity Translation approach for terms with custom fields or the i18n string approach for translation of name and description fields only.
Configuration items - Field labels, blocks, taxonomy vocabularies and terms, menus, views, etc.
Properties - Titles, path aliases, and metatags.
Built-in interface strings.
Challenges
Several different business units inside Varian--marketing, IT/web, sales, compliance, regulatory--are responsible for creating multilingual content, and as a result, many were handling localization separately, using several (4-6) different vendors. There were also different processes among the different business units for managing translation. Varian wanted a better user experience and to integrate these several disparate systems, so members of different departments could all work with the same localization platform.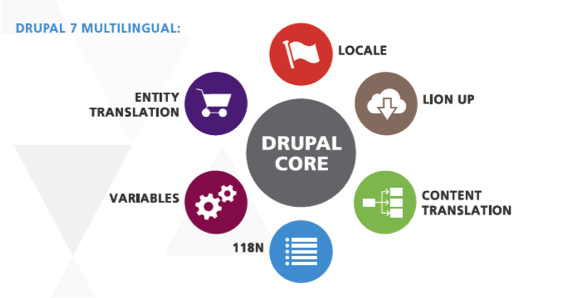 Drupal 7 is a very stable and well-used platform and it supports a vast array of use cases, but it wasn't built with multilingual in mind, so it can be complex for multilingual sites. You need other contributed modules like localization update (l10n_update), the internationalization suite (i18n), the variable module, or entity translation, to name a few.
Every Drupal developer who works with contributed or custom modules must be aware of the requirements for providing a solution that is multilingual ready. Drupal themers also need to be aware of what is needed for making their templates multilingual-ready.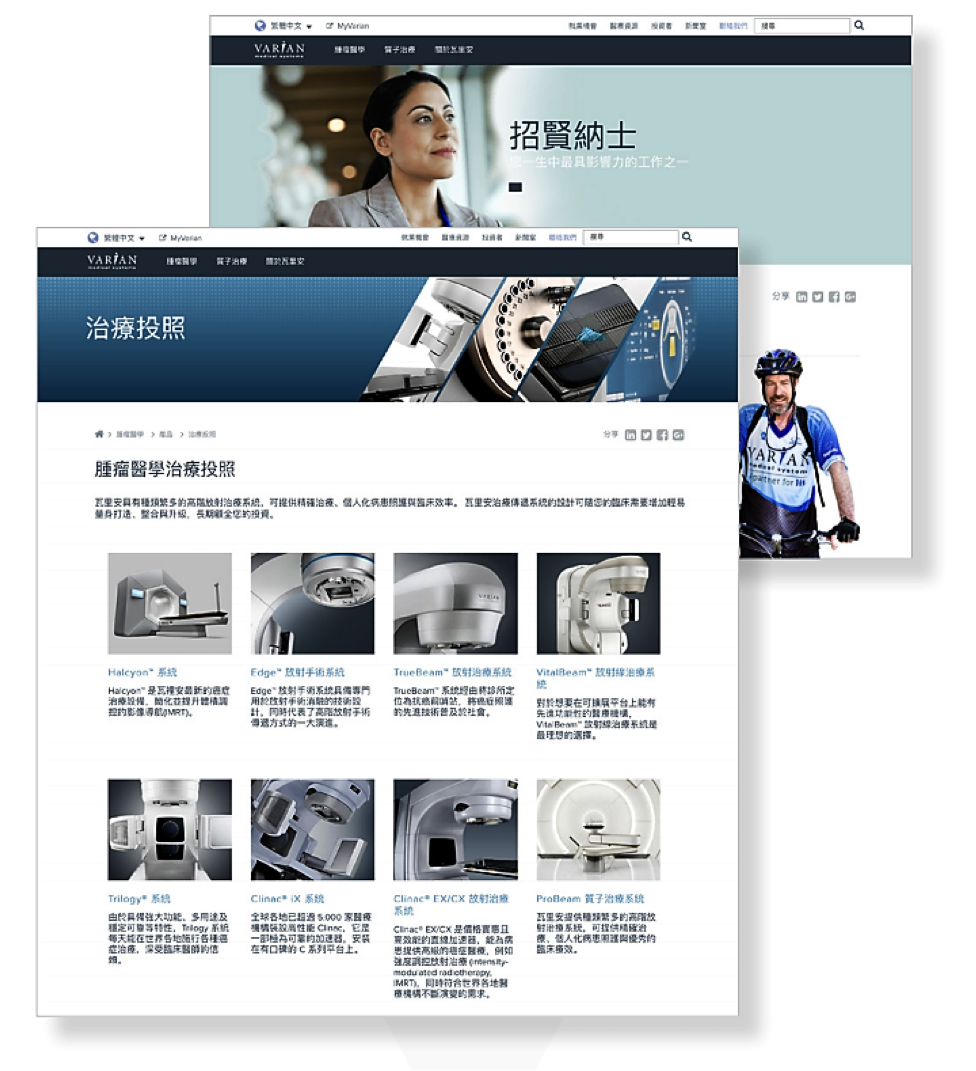 Results
Varian has released five translated websites and is currently in the process of translating the site into six additional languages. The company is on schedule to have its corporate website translated into eleven languages by the end of the year. Having a multilingual-capable module, theme, or distribution allows Varian to appeal to a much broader audience and continues to provide value to its global users.
Acquia + Lingotek + Drupal Module Results
Built a site, end-to-end in 3 months
Seamless Drupal integration
User-friendly TMS interface
Cloud-based TM management
Cost savings through TM leverage
Eliminated manual processes
Community contributions:
About Lingotek
Lingotek | The Translation Network is the only cloud-based solution to connect all of your global content in one place, giving you the power to manage your brand worldwide. Our industry-leading technology pairs expert language services with the best enterprise applications to continuously push dynamic multilingual content to all of your global markets. Find out more about Lingotek at www.lingotek.com.