The Drupal Association Board is responsible for the Drupal Association's financial health and as part of their duty, they vote to approve monthly financial statements. The board met on June 28, 2017 at the open board meeting held online. Summit CPA, the Drupal Association's financial advisors, reviewed the Q1 2017 financial statements, which the board voted to approve afterwards.
For those who could not attend this session, this blog will provide more details about the Q1 2017 Financials, and how we performed against the KPIs that Megan Sanicki, Executive Director laid out in her blog post of June 22, 2017.
As mentioned in previous posts, the Drupal Association has two financial KPIs that we measure against each month:
Have a cash balance of 15-30% of Revenue

End 2017 with a net income profit of 10%
Below is a summary of how we performed against our KPIs each month in the first quarter of 2017. Overall, we are pleased with our financial progress in this quarter. It shows that we are becoming more sustainable since we made hard choices in 2016 to address our cost structure issues. Cash reserves increased due to DrupalCon Baltimore ticket sales and by selling new programs like the Drupal.org industry page sponsorships and the Charter Customer Supporting Partner Program.
| | | | | |
| --- | --- | --- | --- | --- |
| KPI | Goal | January | February | March |
| Cash Reserve | 15-30% | 14% | 22% | 30% |
| Net Income Margin % | 10% | 29% | -30% | -32% |
This chart below shows how our cash reserves were building in Q1, primarily due to DrupalCon ticket sales. You can see the cash reserves were still low at the start of 2017, as we were still in recovery. Additionally, November through January are our low cash months due to being between DrupalCons.
Net Income Margin will move up and down based on the month's activities. Overall with the strong January, and the less solid February and March, we are still tracking to our cash forecast.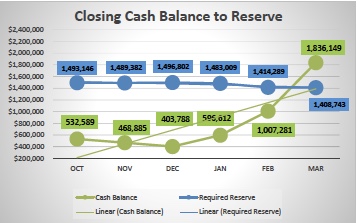 Monthly Updates
January cash reserves ended at 14% of the recommended cash reserve of 30%.  January's net income margin finished at 10%.  Revenue had a nice percentage bump due to some unanticipated sales in the digital and industry pages sponsorships.  Additionally, we received a 28k travel grant from Travel Ireland. Thanks Travel Ireland!
February's cash balance reserve closed in at 22%, due to a strong collections effort on accounts receivables (A/R) by our staff.  The net income margin for February was reduced due to some reclassification of deferred income.  These reclassifications made Febuary come in lower against the cash forecast.  However, with the strong performance of January, the YTD income goal is still on track against our cash forecast.

The cash balance for March exceeded the goal of 30%.  Why? Based on the 2017 forecasted revenue a 30% cash reserve goal is around $1.4M. The March balance of $1.8M was higher than this goal. The jump in cash is due to the strong collections in A/R and timing variances for payments in our A/P. You can see from our A/R tracking that we generally perform better than industry counterparts when it comes to payment on our accounts receivable; as at the end of March we were at 20 days to collect payments.  Additionally, ticket sales from DrupalCon added to the cash balance.
The board meets again on 23/24 September, 2017 at DrupalCon Vienna where they will approve Q2 financials. We will share a similar update to the community after that meeting takes place.
We would not be able to do our mission-driven work without the support and contributions of our community. Contributions come in many forms, through purchase of DrupalCon tickets and event sponsorships, through our Supporters and Members, Drupal.org sponsors, recruiters who post jobs on Drupal Jobs and many other fantastic ways our community supports the Drupal eco-system. We are deeply grateful for everyone who contributes their time, talent, and treasure to move Drupal forward.
Thank you!