Drupal Global Training Days (GTD) is an initiative of the community to introduce people to Drupal. The first events of the year were held just last Friday-Saturday, but more on that after we reflect on last year's progress. In 2017, GTD was held in 86 locations around the world. A lot of behind the scenes work happened last year to keep the project going, including the convening of a working group of trainers who had been participants in GTD in different regions of the world.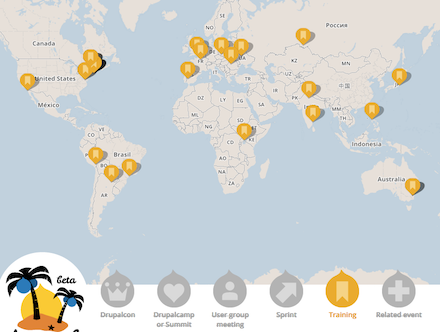 Here's what Drupical looks like when a GTD event is about to take place. So much yellow-orange!

Other noteworthy things happened in 2017 for Global Training Days. At DrupalCon Baltimore, the community included two BoFs where GTD history and challenges were discussed and progress was made to address the issues. In spring 2017 a survey was conducted to better understand the needs of the training hosts so improvements can be made in the future and 400 trainers were invited to participate. A new Twitter account @DrupalGTD was also started to keep the community informed and engaged on the project.
Highlights from the organizers
I invited three GTD hosts to answer some questions about their events to give us a view into what's happening in their local communities. Thanks Kirsten, Ildephonse, and Mauricio for participating.
Kirsten Burgard (bendygirl) from GovCon (Washington DC)
How did you get started in Global Training Days?
"We've been hosting D4G half days for several years, this year we started incorporating GTD into these events.  We were looking to get more structure into our training offerings and heard about the GTD project.  During DrupalCon Baltimore, a couple of our organizers were able to attend the Drupal Global Training Days BoF, and after that initial briefing on the project, we jumped right in. Drupal4Gov uses the GTD dates to coordinate community based training, extending our regular half-day events. Our goal is to offer a beginner session, but take advantage of the pre-coordinated space and time to offer intermediate and advanced sessions or additional topics like a Devops half day.  Drupal4Gov has hosted a training event on every GTD since attending the BoF at DrupalCon Baltimore, and we are committed to continuing that trend."
Who helped to make your training happen?
"Multiple speakers, organizers and hosts. Last year, we had National Agricultural Library (in spring), Taoti (in June), Chief (in September), and Department of Interior and Debug Academy (in December). This month, Booz Allen Hamilton and Government CIO Magazine hosted us January 26th and 27th.
Maurcio Dinarte (dinarcon) allowed us the use of his "Understanding Drupal" material for our very first official GTD at Taoti and since then we've used the free D8 Site Building training videos provided by Acquia in coordination with OSTraining.  Our wonderful community speakers provide additional training material that expand on the GTD efforts."
How many attended your training events in 2017 and what did they say they wanted to learn?
Our class sizes are limited by the spaces we are able to secure and the course material we are looking to teach.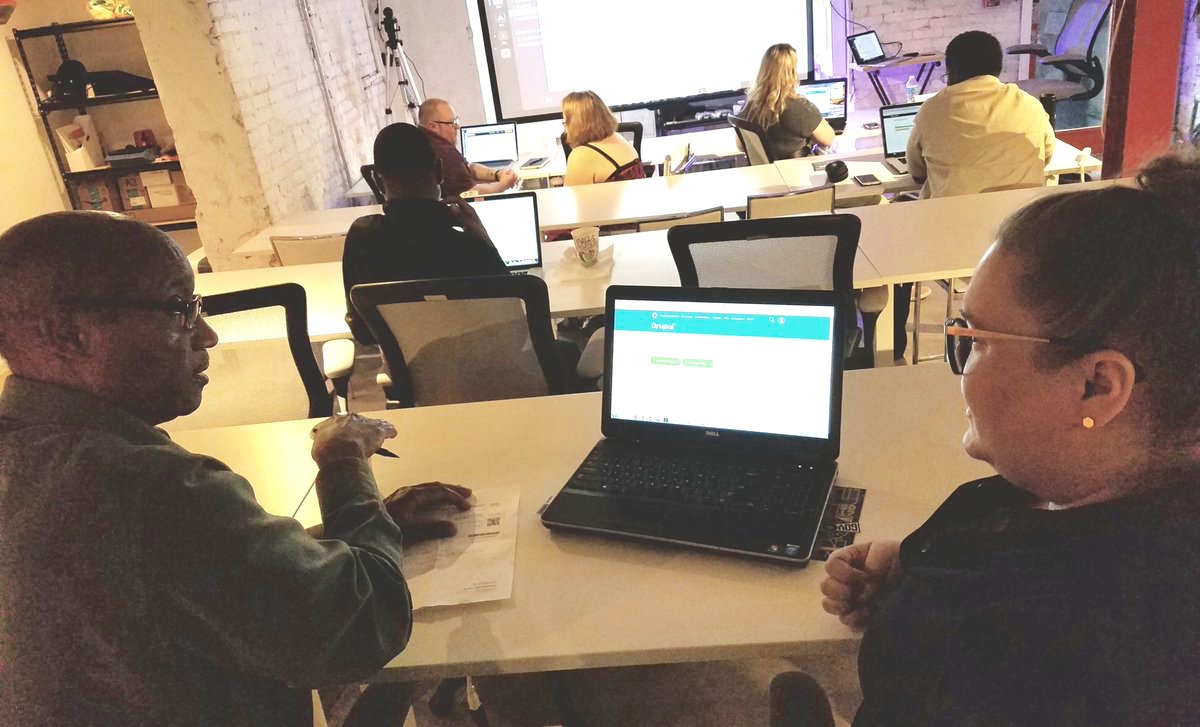 Here are the number of people that registered for our events:
2017
April - 78

June - 30

September - 20

December - 33
2018
January - 78 (plus speakers), 8 (including host and speaker)
We have surveyed our users and the responses are always positive.  When asked about future trainings, most attendees simply asked for more of the same and/or a continuation to build on what they just learned.
What new knowledge did attendees receive from you?
"We do a decompress at the end of our events and at the beginning, we ask how many Drupal4Gov events they've attended. At our April DevOps event I asked the usual, 'How many of you are at your 1st Drupal4Gov event' and nearly 80% of attendees had never heard of us much less worked with Drupal. This was their first ever Drupal event. They stayed the entire time and most have come back for other events over the past year. Typically, less than half are brand new to a Drupal4Gov event. My favorite comment from any event also came from that, at the end, we ask, 'What one thing did you learn here" and one of the speakers turned to the other two speakers and said 'I met the other speakers and I think I can incorporate parts of their work into mine' which is seriously awesome. We bring together people who didn't know each other and when they leave, they feel empowered to work together to make Drupal and the Web better!
It's probably important to explain what one of our events looks like. Please note, we limited seating to 70 and had 78 in attendance., we work really hard at not turning people away even when at capacity. So, here's an example of the highly technical DevOps event we hosted with Zivtech, Mindgrub and the US Department of Agriculture at the National Agricultural Library:
Join Drupal4Gov for another of our Quarterly Half Day events.

This time around, we will limit to 70 attendees and spend 90 minutes each with Zivtech, Mindgrub and USDA Office of Communications about DevOps. And please note...NO COMPUTER NEEDED!

Zivtech will provide an in depth training on Probo.CI which provides environments for quality assurance and testing using the LAMP stack, complete with selenium testing and Solr search.

Mindgrub will discuss the internal processes that caused them to embrace the robot overlords and start to investigate devops automation.

USDA will close us out with how USDA.gov is using a combination of PHP7, MariaDB v10.1.21, and Varnish 4 deployed on the USDA Enterprise Platform Shared Service (available to all government agencies) which leverages Salt, Rancher, and Docker. Coupled with CDNs they had around 50k/requests per minute to the backend servers.

So, join local govies, contractors, private sector, non profits and more for amazing discussion about DevOps and testing. You have options, let's explore them together."
Maurcio Dinarte (dinarcon) from Nicaragua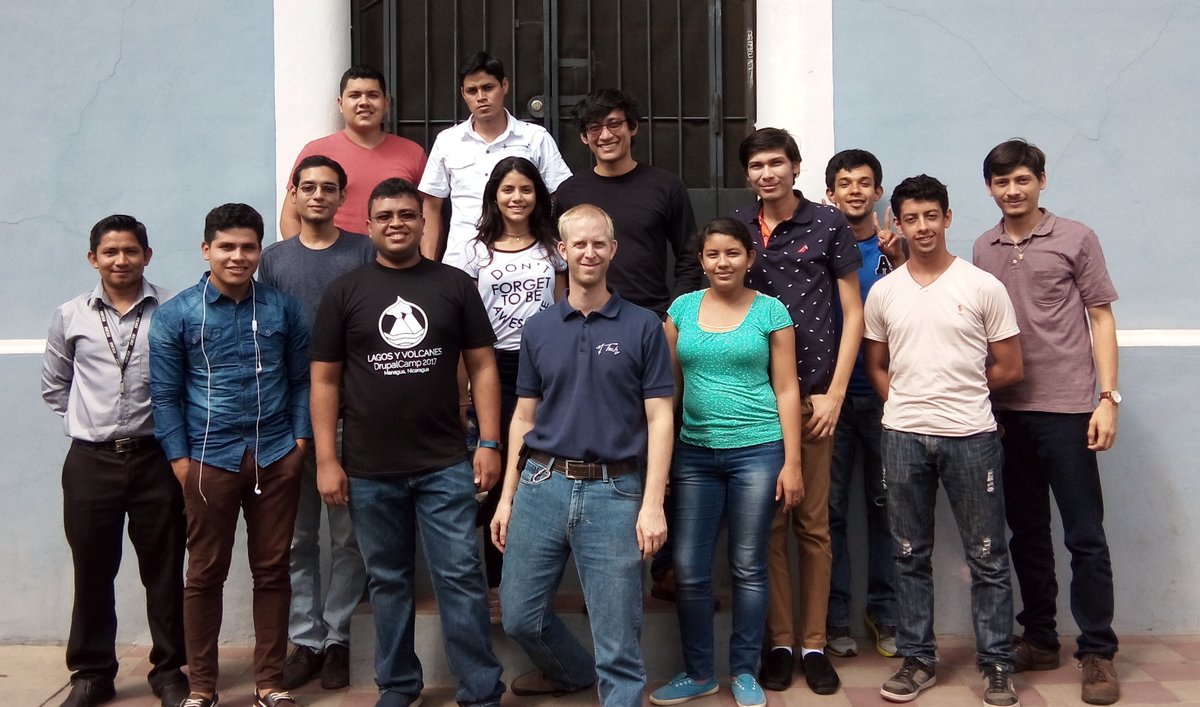 Who helped to make your training happen?
"For the first edition of the training, it took Lucas Hedding and myself several months to create the curriculum. We were also supported by Norman García, who let us use a lab of his computer science institute several times. Over the years, various people helped to improve the curriculum. Many of them were students who attended one of our trainings and got Drupal jobs afterwards."
How many attended your training events in 2017 and what did they say they wanted to learn?
"About 70 people attended our trainings in 2017. To date, the trainings have covered intro to Drupal material for the most part. Many attendees want to continue learning and they have asked for more advanced site building, theming, and module development material. We are going to start doing that with our next workshop which will focus on Views."
What new knowledge did attendees receive from you?
"In our trainings, we cover basic site building material: how to create nodes, content types, and fields; basic Views set up; block creation and placement; and some general CMS topics and Drupal practices. Most people who attend are completely new to Drupal or web development in general. They are generally impressed by how much can be done without writing a single line of code."
Ildephonse Bikino (bikilde) from Rwanda
Who helped to make your training happen?
"Our Rwanda Drupal Community is at its beginning. During 2017, I was assisted by one of my community members named Diane. The trainings were hosted by KLAB which provides an open space for IT entrepreneurs to collaborate and innovate in Kigali, Rwanda. It was initiated by the government. So they gave us space, projector and internet access at the venue."
How many attended your training events in 2017 and what did they say they wanted to learn?
"This year we had one series of trainings, were we got approximately 388 participants organized in 8 groups 50 each. We expected only 50 people, but we got such large number of people interested. This story was written on Drupal Community Spotlight.
The second GTD had only around 45 participants for a half-day session. We limited the number of applications, as I didn't have time to make a series again by that time."
What new knowledge did attendees receive from you?
"Drupal is not popular in Rwanda and 2017 was the first time we organized GTD. So the training included basics like: introduction to Drupal, Drupal installation, Drupal opportunities, and what is the Drupal community and how does it works. We used 6 hours per day for this training."
2018 is off to a great start
It's exciting to consider the momentum created at the 17 different locations that held GTD events this past weekend. Thanks to all the organizers and groups/companies who made these events possible! Here goes a lot of thanks in no particular order:
In Chisinau, Moldova, Drupal Moldova Association, Sergiu Nagailic (nikro), Anya Abchiche (anyaabchiche), Nicoleta Nagailic (afinika), Irina Basiul, Vladimir Melnic (vladimir-m), Alexei Seremet (alexeiseremet), Alex Goja (agoja), Mihaela Mirza, USAID Moldova and the Swedish Government, Adyax, and iHUB Chisinau.
Online, Wayne Eaker (zengenuity) at DrupalTutor.
Also online, David Needham (davidneedham) along with Drew Gorton (dgorton), Tessa Kriesel (tessak22), and Dwayne McDaniel (mcdwayne) at Pantheon.
In Managua, Nicaragua, Drupal Nicaragua along with Maurcio Dinarte (dinarcon) at Agaric.
In Eger, Hungary, Roland Molnár (roland.molnar) and Labor Association.
In Leeds, UK, Crispin Read (crispin) at Drupal Apprenticeship Scheme and Rachel Lawson (rachel_norfolk).
In Munich, Germany, Johannes Haseitl (derhasi), Jörg Matheisen (joergM), Serhad Serhad Güldürsün (D_D), Rouven Volk (rvolk), and Inviqa and undpaul.
In Porto, Lisbon, Drupal Porto, Omibee, Ricardo Marcelino (rfmarcelino), Adriana Vaz (adrianavaz), Beatriz Cunha (beatriz-cunha), João Machado (joum), and Filipe Pereira (fmfpereira).
In Tokyo, Japan, Kazu Hodota (hodota) at Gennai3 Corporation.
In Conil, Spain, Drupal Conil, 1xINTERNET and Forcontu.
In Peshawar, Pakistan, S M Azmat Shah (Drupak) at Drupak.
In Brisbane and Melbourne, Australia, Vladimir Roudakov (vladimiraus) at TEstudIO.
In Boston, Kay VanValkenburgh (kay_v) and Leslie Glynn (leslieg) and the Boston Drupal Group.
In Stanford, everyone at Stanford Open Source Lab.
In Washington DC, Kirsten Burgard (bendygirl) of the Drupal4Gov team, along with Arash Farazdaghi (afarazdaghi), Virginia Nguyen (v7nguyen) (also Drupal4Gov), Eric Robbins (erobbins), Alek Snyder (alsnyder), Sara Kieffer-Hess (sarakh), Nick Massa (nxmassa), Alexandra Screven (ascreven), Heting Li, and Connor Hoehn, all from Booz Allen Hamilton. Gerardo Maldonado (g3r4), John Shortess (johnshortess), Carla Briceno (chbriceno), and Rich Allen (richardcallen2386), all from Bixal. Jerome Wiley (jeromewiley) from Government CIO Magazine. Dan Schiavone (schiavone) from Snakehill/Drupal4Gov. Matt Mendonca (mattmendonca) at NIST. Jessica Dearie (jdearie) at EPA/Drupal4Gov.
GTD is happening again in March, June, September, and December. Anyone in the community can participate, and if you want a little advice on getting started, check out the GTD group where you can find the GTD Working Group if you need help.