Updated: 1 hour 6 min ago
So, what happened???.... The FreeScholar in me got really tired of hearing developers that are excited about some proprietary solutions/tools that happen to work with Drupal. Some of these solutions are being touted as the way to go in the future. I believe that our community has no shortage of genius, creative minds and brilliant ideas, so I encourage us all to think deeply about the tools we use and our personal freedoms.
About 2 months ago, I invited Richard Stallman to our monthly meetup at MIT. I wanted him to meet the Drupal community and take a look at how we work together on projects that are dear to our hearts, helpful to our communities and good for society- we make things happen. He gave a short lightning talk about free software and hardware, then we had a Q and A with him. Many of us got a better understanding of what his mission is and how we can be a part of the educational outreach for fsf.org. Learning to explain how free software is key to autonomy, privacy and human rights, is a big help for the movement.
Next, I invited RMS to NYCcamp... On Saturday July 18th, he gave the keynote speech to a packed house at the United Nations - http://nyccamp.org/keynote/2015-keynote. After the keynote and standing ovation, he connected with the Aegir team and began a discussion on web hosting platforms and free server tools which led to a larger group convening at a strategy session with the Aegir team lead, Chris Gervais and RMS. They led an engaging round table discussion with about 30 people - http://nyccamp.org/session/aegir-strategy-session-richard-stallman-and-c...
What an excellent time - your voice and thoughts are needed, let's free our future with free software as the foundation.
I love Drupal almost as much as I love freedom.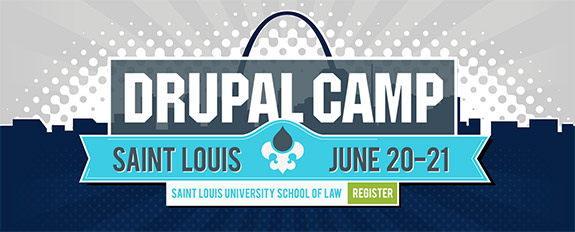 On June 20 - 21, people from all over the Midwest who use, design, develop and support Drupal will convene in downtown St. Louis for the second annual DrupalCamp STL. Meet us in St. Louis and help us forge new skills and friendships while furthering the Drupal project.
Registration is only $25, and if you register ASAP you'll get a soft, comfy T-shirt, a nice catered lunch, and an excellent lineup of sessions on Saturday, and sprints all day Sunday!
Check out the schedule for the day, which includes a keynote by Alina Mackenzie on getting involved in the Drupal Community.
Join us in the Learning Lounge on Saturday, and for Sprints on Sunday, to increase your Drupal knowledge, meet some other Drupal community members, and help make Drupal better!