Updated: 1 hour 55 min ago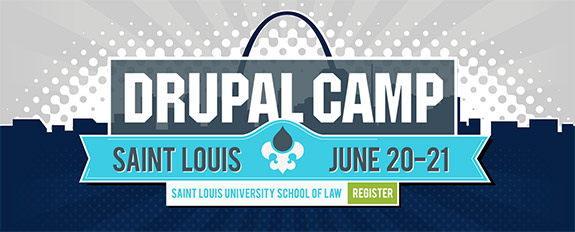 On June 20 - 21, people from all over the Midwest who use, design, develop and support Drupal will convene in downtown St. Louis for the second annual DrupalCamp STL. Meet us in St. Louis and help us forge new skills and friendships while furthering the Drupal project.
Registration is only $25, and if you register ASAP you'll get a soft, comfy T-shirt, a nice catered lunch, and an excellent lineup of sessions on Saturday, and sprints all day Sunday!
Check out the schedule for the day, which includes a keynote by Alina Mackenzie on getting involved in the Drupal Community.
Join us in the Learning Lounge on Saturday, and for Sprints on Sunday, to increase your Drupal knowledge, meet some other Drupal community members, and help make Drupal better!
Start: 2015-04-19 09:00 - 17:00 America/New_York Drupalcamp or Regional Summit Organizers:
joebachana
richbaldwin
mdorman
amycham
forestmars
Registration is now up for D3NYC15, to be held Sunday, April 19th at John Jay College in Midtown Manhattan. To reserve your seat, follow this link: http://goo.gl/22LnX5.
The camp website may be found at http://www.drupalcamp.nyc.
Drupal Dev Day NYC 2015 will be a free, full-day Drupal unconference and Drupal 8 sprint event. All skill levels are welcome at Drupal Dev Day NYC 2015. The content is determined by attendees at the beginning of the day, but you can expect to find sessions and conversations on topics ranging from the most basic to advanced.
Among the exciting details of the camp include:
• Morning coffee, bagels and a schmear (wouldn't be a NYC camp without 'em!)
• Beginning Drupal training presented by Bleen!
• A Drupal Ladder/mentoring room, where you can get your environment set up and learn to code for Drupal
• Drupal 8 codesprints
• Sessions all day, picked by us all and presented by drupalists among us or collaboratively in BoF format.
If you are an organization interested in helping to sponsor this event, please contact Matt Dorman (mdorman) for more details, or you can go to the registration page and select your level of sponsorship commitment. Thank you in advance!
For those people interested in volunteering on the day of the event, please ping Joe Bachana (joe@bachana) or post a comment to this event page.
Watch this Event page and follow @DrupalNYC (https://twitter.com/drupalnyc) on Twitter or our Facebook page (https://www.facebook.com/Drupalcampnyc) for the latest updates!